If you have a claim to report, you can contact your insurance company's 24-hour claims service directly at the following numbers:
Are you an Intact Insurance client?
File your auto or home insurance claim online!
Just use the Intact Insurance App or the online Client Centre. It's quick and easy. And there's no need to call.
Has your claim been filed? With Intact Insurance Online Services, you can check the status of your claim 24/7.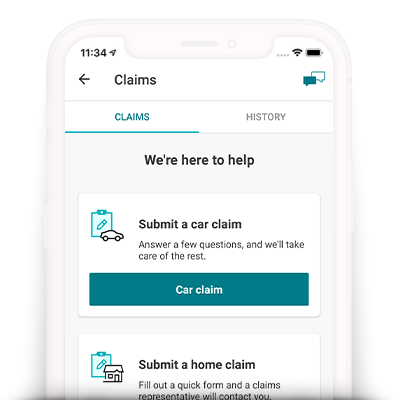 In order to facilitate the opening of your claim, remember to have these documents on hand when you call:
Auto Insurance:
Your insurance policy number
A copy of your accident report or your police report number
Home insurance:
Your insurance policy number
Any other document related to your claim: the complete inventory of damaged goods and the contact information of the third parties involved. Your insurer will ask you to provide photos.
If you don't have this information, no problem, we can still start the claim opening process!
Car accident? Do you need a joint report?
What should you do if you've just been involved in a collision? If there are no injuries, you should complete a joint report.
Download one here and keep a copy in your car!